17 mai 2007
Have been really busy lately (helping at the children's school whenever i can, sports activities for the kids, I mean...being their taxi driver ! and also still doing french class also for kids ! On top of this, still making time for my 'Me time' doing creative stuffs ie: memorabilia box for baby Daniela below post). and not to mention my Circle Journal that's starting NOW !! and geeee ! Miss Sian !! lucky u said you were slow at doing things ! Yes ! Sian has already passed hers on to me. Woohooo ..under pressure !! But still loving it and so much fun ! It's good to be busy ! (Just wish there were more hours in a day...specially when i'm trying to post all these, took me 3 times..don't know why !). Thanks for reading and to leave me a comment ..i mean...a nice one !! B.
(Je suis charge' de choses a faire ces temps-ci (aider a l'ecole des enfants autant que je peux, activites sportives pour les enfants,...je veux dire etre leur chauffeur !! faire mes cours de francais aussi pour les enfants ! En plus de tout ca, je gere mon temps a faire aussi ds trucs creatives. et a ne pas oublier mon Journal que je dois commencer a faire circuler ! Mais c'est super de s'occuper a faire des choses, c'est bon pour la tete ! (dommage qu'il n'y ai pas plus d'heures dans une journee...surtout que j'ai du poster cet article au moins 3 fois !! j'sais pas pourquoi !!). Bon, merci de me lire et de me laisser un commentaire...un commentaire sympa qd meme !! :) BB.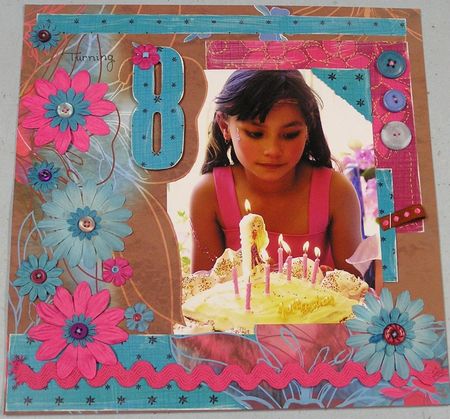 MY CJ Cover:
***
Comments/Commentaires:
I LOVE LOVE LOVE your CJ!! And now that Ive passed mine on, you have extra time to do it!! lol
Your layouts are always beautiful, and lucky you, you have beautiful models!!
xx
wow great layouts,your a great scrapper.
i'm loving the photography class at the school
Je trouve toujours formidable ce que tu fait. Non seulement tu es une grande artiste mais une maman modèle et courageuse. Bravo!!

j'adore l'harmonie du rose et du bleu, excellent choix.
en + d'être une scrapbookeuse de génie tu es aussi une talentueuse photographe.
Que de flèches à ton arc...
Je t'envie, moi ki m'encroûte dans un job de burokrat'....
Big bisous, Nat de Tahiti...
Commentaires sur Been busy but loving it :)